Dyepress Spray
---
1 oz concentrate sample size bottle of Dyepress Poly-T sublimation coating spray. Mix 1 oz with 7 oz of purified water. 
INFO FROM DYEPRESS:
Dyepress Poly-T will allow you to sublimate 100% cotton as long as you apply a 2nd coat of Poly-T over the sublimated image (see details below). You will lose about 10% of the vibrancy after the first wash when coating 100% cotton. For more vibrant images long term, use 40%+ polyester fabric.
Poly-T Coverage (Add 1 ounce (2 tbs.) concentrate per 7 ounces purified water): 
1 oz. of Concentrate (SAMPLE) - Makes 8 oz. of Poly Spray (will coat 20 t-shirts with a 10" X 12" print area)
We strongly recommend using a thin silicone mat under your shirt to raise your image area higher than the rest of the shirt to #1 keep any thick seams of the shirt out of the way AND #2 to reduce the amount of Desizer you need to apply. You will see in the instructions below, that you need to apply the Desizer everywhere the heat will press against the shirt, otherwise the sizing will burn wherever the heat hits the sizing that remains. Do NOT use the silicone mat when Desizing the shirt, ONLY when sublimating.
Instructions: Most white and heather grey (and oatmeal) shirts are coated in "chemical sizing" to maintain a smooth finish during manufacturing. This "sizing" burns and blocks the Dyepress from soaking in. If you do not remove the sizing, your image will wash out. Sweatshirts of all colors have sizing added to avoid pilling. Colored t-shirts don't have sizing since it was removed to dye the fabric. Shirts labeled PFD (prepared for dying) do not have sizing, since the manufacturer removed the sizing for customers who plan to dye the shirts. Here's an article from Dupont about textile desizing for more information. We recommend practicing on shirts from Hobby Lobby, since their shirts have only a light amount of sizing.
1. Desizer: If the shirt is white or heather grey, remove the "chemical sizing" with Desizer BEFORE applying the Dyepress Poly-T.
Mix 1 oz. Desizer + 7 oz. water in a fine mist spray bottle.
The Desizer is steam activated. Spray Desizer wherever heat press will touch the shirt. Cover wet shirt with thin cotton fabric, shirt, or flour sack towel and press at 385°F until a heavy amount of steam rolls out from under the press, continue until you no longer see steam (about 30 to 40 seconds depending on cotton cover thickness).
2. Poly-T: Mix 1 oz. (2 Tbs.) Poly-T + 7 oz. purified water in a fine mist spray bottle.
3. Spray Poly-T until damp and press coating into fibers.
For the most vibrant images, dry the shirt under the heat of the open heat press (takes only a few minutes). Be sure the Poly-T is completely dry before you sublimate.
Do not use tacky spray, it will block the ink transfer.
4. ONCE DRY, SUBLIMATE WITH FIRM PRESSURE FOR 70 SECONDS AT 385
F. USE 2 SHEETS OF BUTCHER PAPER.
OPTIONAL TOPCOAT 
TO AVOID INK BLEED WITH THE TOPCOAT OF POLY-T, SELECT "PLAIN" PAPER PRINT SETTING. PRESENTATION MATTE SETTING PUTS TOO MUCH INK ON THE PAPER AND THIS EXTRA INK SITS ON THE SURFACE AND BLEEDS WITH THE TOPCOAT.
5. Spray a LIGHT MIST of Poly-T over sublimated image. Dry under the heat of the OPEN press, with hair dryer or heat gun. If air-drying, press at 300°F for 10 seconds to set the ink. DO NOT press any hotter than 300F or you will re-start the sublimation process, causing ink loss!
Clogged Spray Bottle: Spray water or alcohol through spray bottle to keep sprayer from clogging.
To give you an example of how Dyepress Poly-T works, we sprayed one-half of a 50/50 shirt and then let it air-dry. The second photo shows how the shirt looked after two cycles in the washing machine and dryer using hot temperature settings.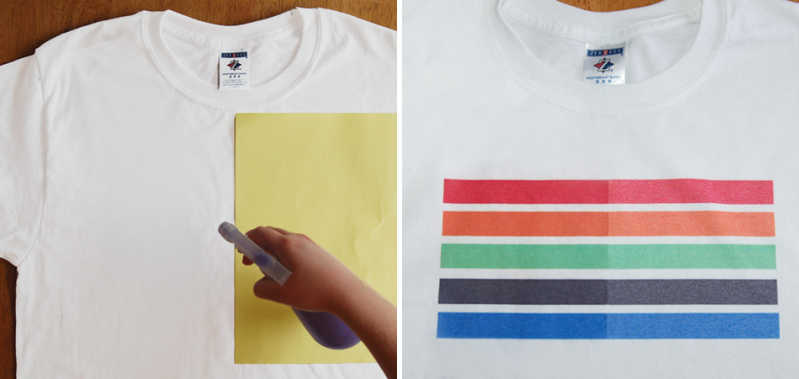 All DyePress sublimation coatings are manufactured in Scottsdale, Arizona
---